This add-on has excellent features and friendly UI. It is compatible with most versions of XenForo (1.2, 1.3 and 1.4).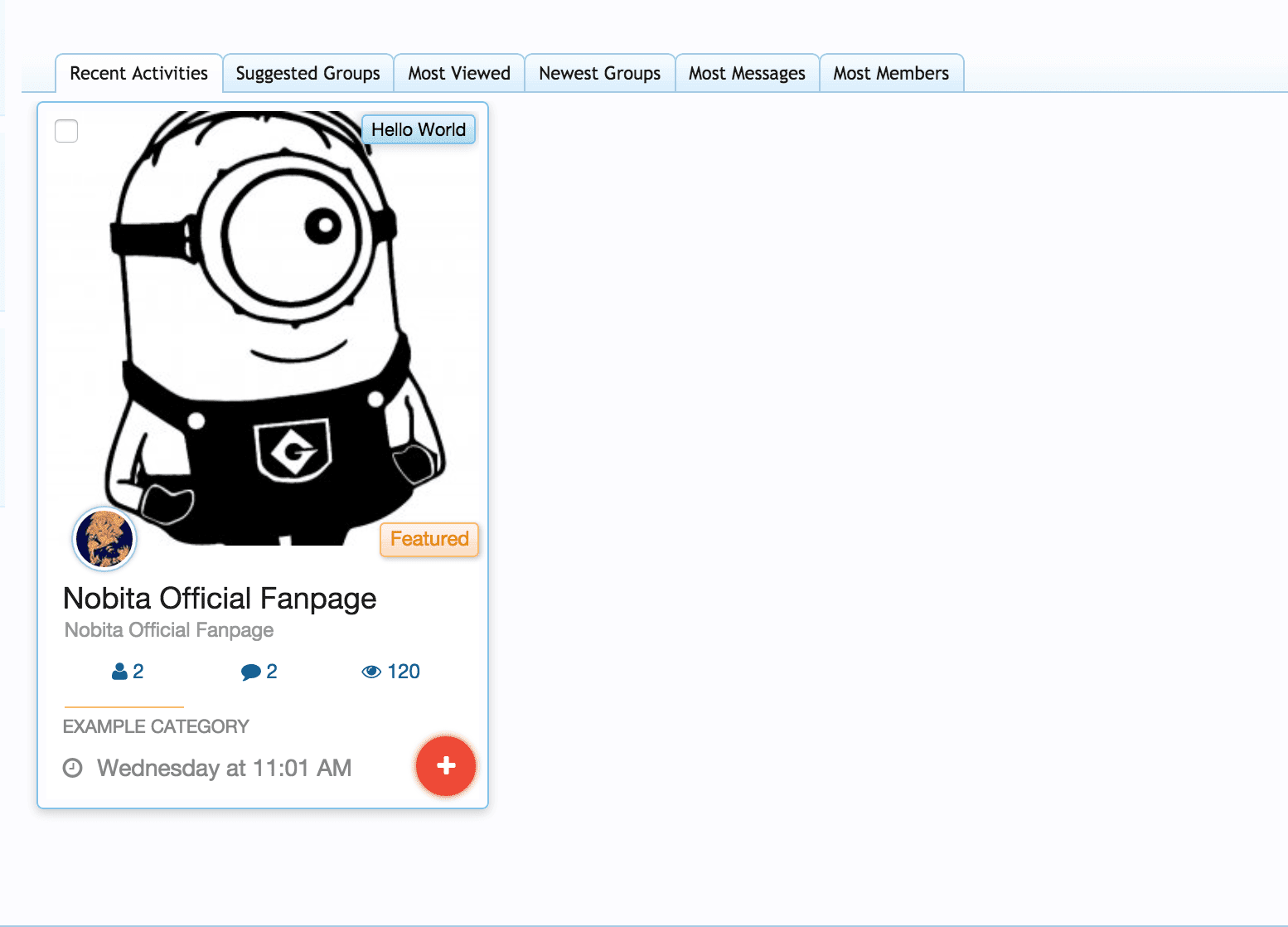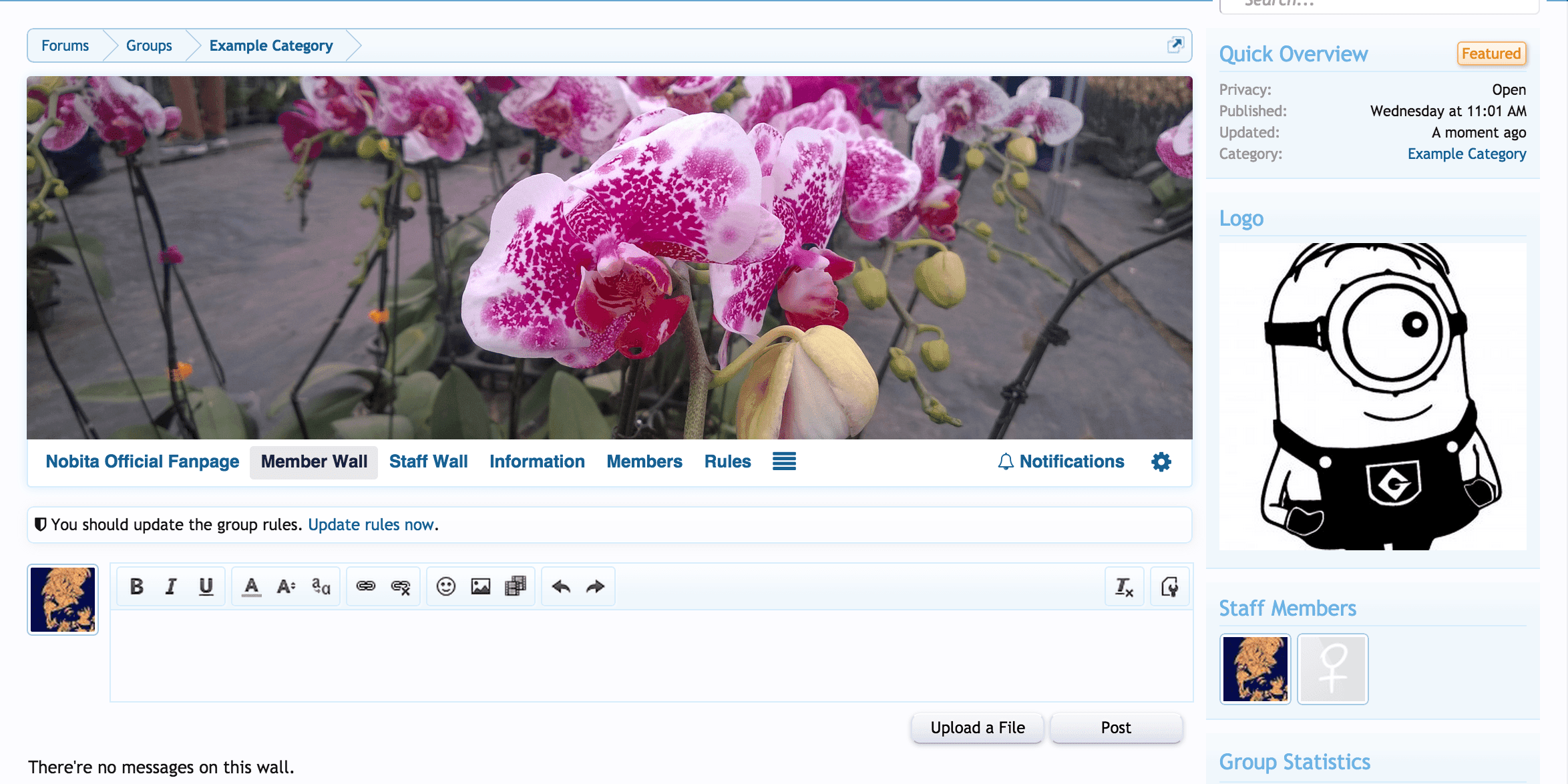 Key features:
Ability to create unlimited categories and nested categories for groups.
Ability to create unlimited custom fields for each category. Custom fields then will be shown in group details.
Show custom field position, data types, create PHP callback for Fields,
Ability to group members and easily manage member roles and permissions in group.
Events. Each group has ability to create their own events.
Ability to create Gallery and Media. sonnb-XenGallery and XenMedia add-on are required.
Sub Forums.
Forum member permissions: easily manage forum member permissions. For example: create, delete groups, …
Avatar supported. Each group has ability to easily upload their avatar
Cover photos supported. Each group has ability to easily upload their cover
Much more....
Group Category:
many options available to manage groups:
Allow member to upload files
Default set group privacy, only apply to newly created groups.
Manage usergroup permissions to create groups in categories.
Manage group tabs (e.g. Member, About, Events,…), be able to temporarily hidden specific tabs.
Manage sub-forums. Each group has ability to choose their own Forums. Click here for more details about sub-forums.
Member Roles:
manage member roles in each group
Easy to create more roles
Easy to manage group member roles. For example: A member of Group A when being promoted to administrator will have administrator permissions such as removing a group member, promote a member, manage posts, etc. Moreover, this member is still able to have a managing permission in the Forum.
Events: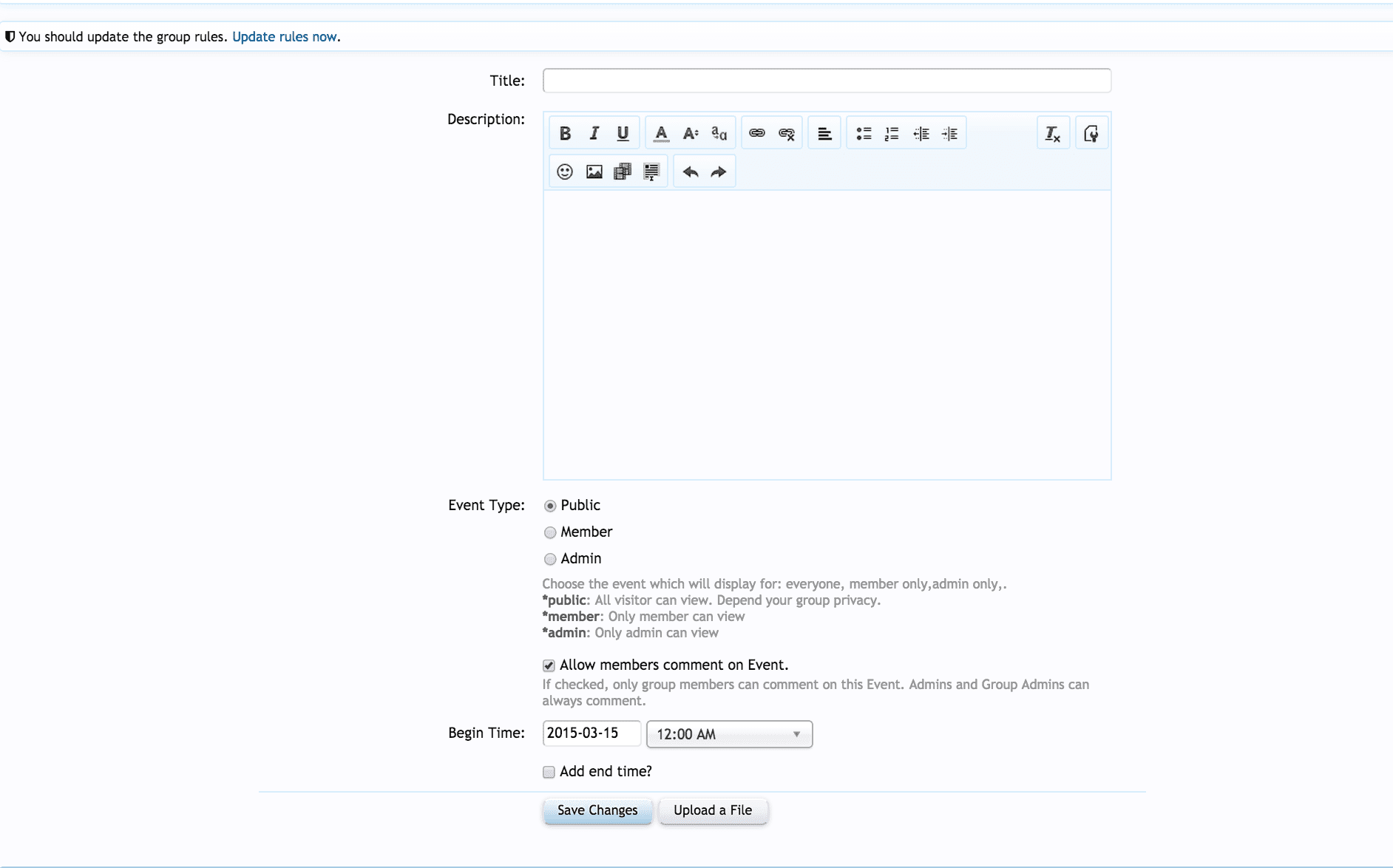 ​
Ability to attach files when creating events.
Ability to post comments in events.
Intelligent notifications: new events created, new comments posted, …
Easy to filter events: ongoing events, upcoming events and past event.
Friendly layouts with 2 options available: List or Calendar, default layout can be set in Options List (Options List-> [Nobita] Social Groups Options)
Gallery and Media:
(This options required third-paty addons)
2 supported addons available: sonnb-XenGallery và XenMedia. One of these 2 addons must be installed to make this feature works.
Use permissions from the third-party addon such as create, delete photos, media, etc as well as layouts
Easy to switch between two addons. Note: a gallery created by sonnb-XenGallery will not be able to view/use by XenMedia and vice versa.
Sub-Forums for Groups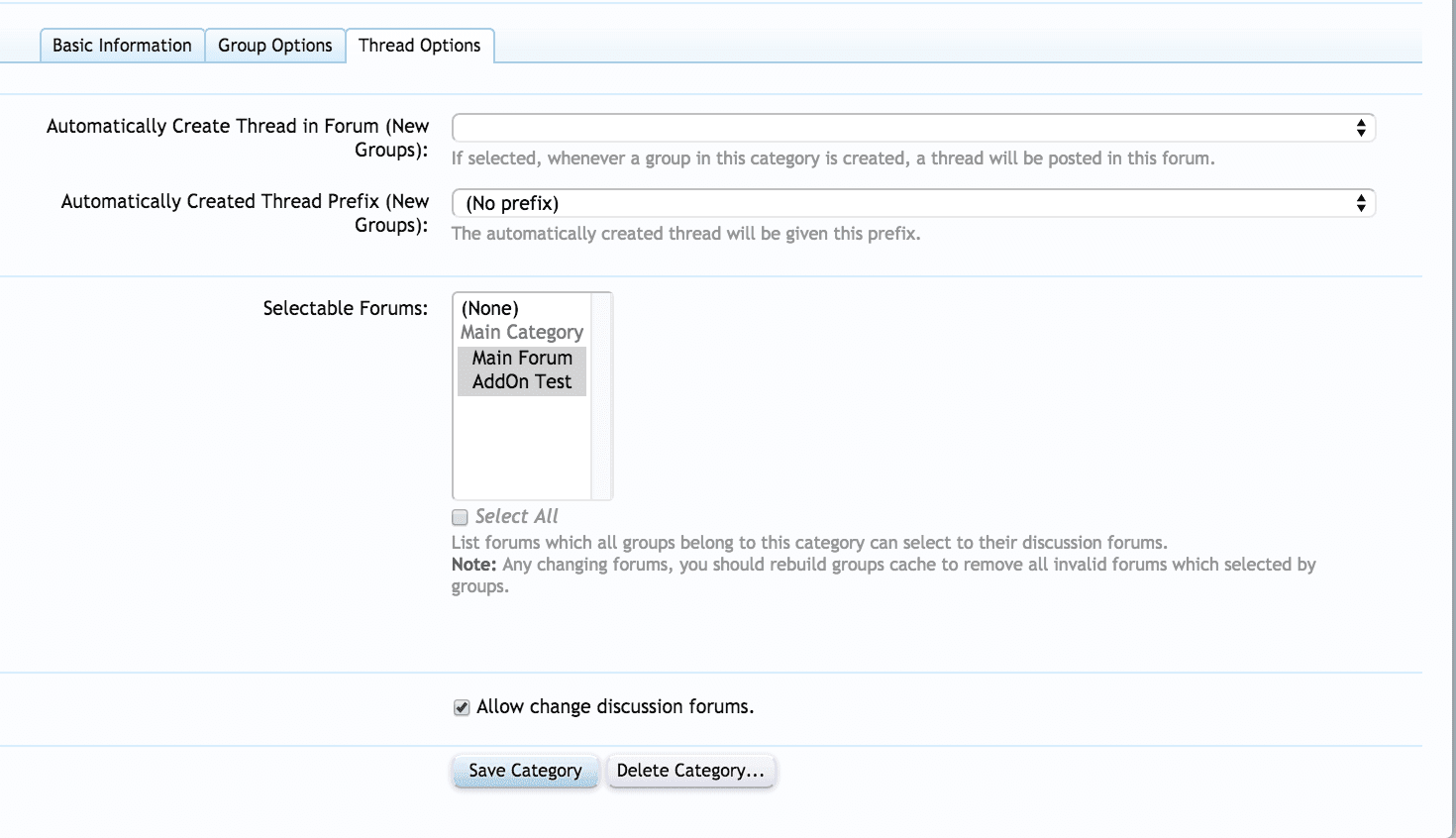 ​
Each group will have their own forum to post their own threads and use XenForo sub-forums to archive these threads. These threads are shown to the public or not depending on group Privacy options.
XenForo sub-forums used in this feature are simply cloned then displayed in the group Forum tab. The group's forum are able to use one or more specific XenForo sub-forums which must be set in that group's category setting.
If you want to create new sub-forums to use in this feature. Find the option in ACP -> Applications -> Display Node Tree
Group Privacy:
Public, Closed và Secret. Each privacy option has its own settings.
Public Group:

Anyone can see the group
Anyone can see contents in the group
Shown in the group list

Closed Group:

Anyone can see the group
Only members can see contents in the group
Shown in the group list

Secret Group:

Only members and authorized users (set in User Group Permissions) can see the group and its content
Only authorized users (set in User Group Permissions) can create Secret Groups
Group invitations:
Send an invitation: Only Public and Closed Groups are supported. Each invitation sent, user will be received a notification. User can easily manage the invitations they received from Invited Groups page.
Add users to group: Only Secret Groups are supported. This feature allows authorized members to add an user to the group without their permission.
This feature is managed in Member Group Permissions, only users given "Invite people to group" permission can use the feature.
Group NewsFeed:
including Public, Member và Admin Newsfeeds
Public Newsfeed is displayed to the Public​

Member Zone is only for group members.
Admin Zone is only for group admins. Staff members are set in Member Roles setting by enabling "Display as Staff" option.
Manage Tabs in Groups:
As default, there are multiple tabs displayed. But this feature has ability to temporarily hidden specific tabs in group. As mentioned above, you can disable any tabs for any categories. Each feature will be displayed as a tab, so disabling a tab means disabling a feature.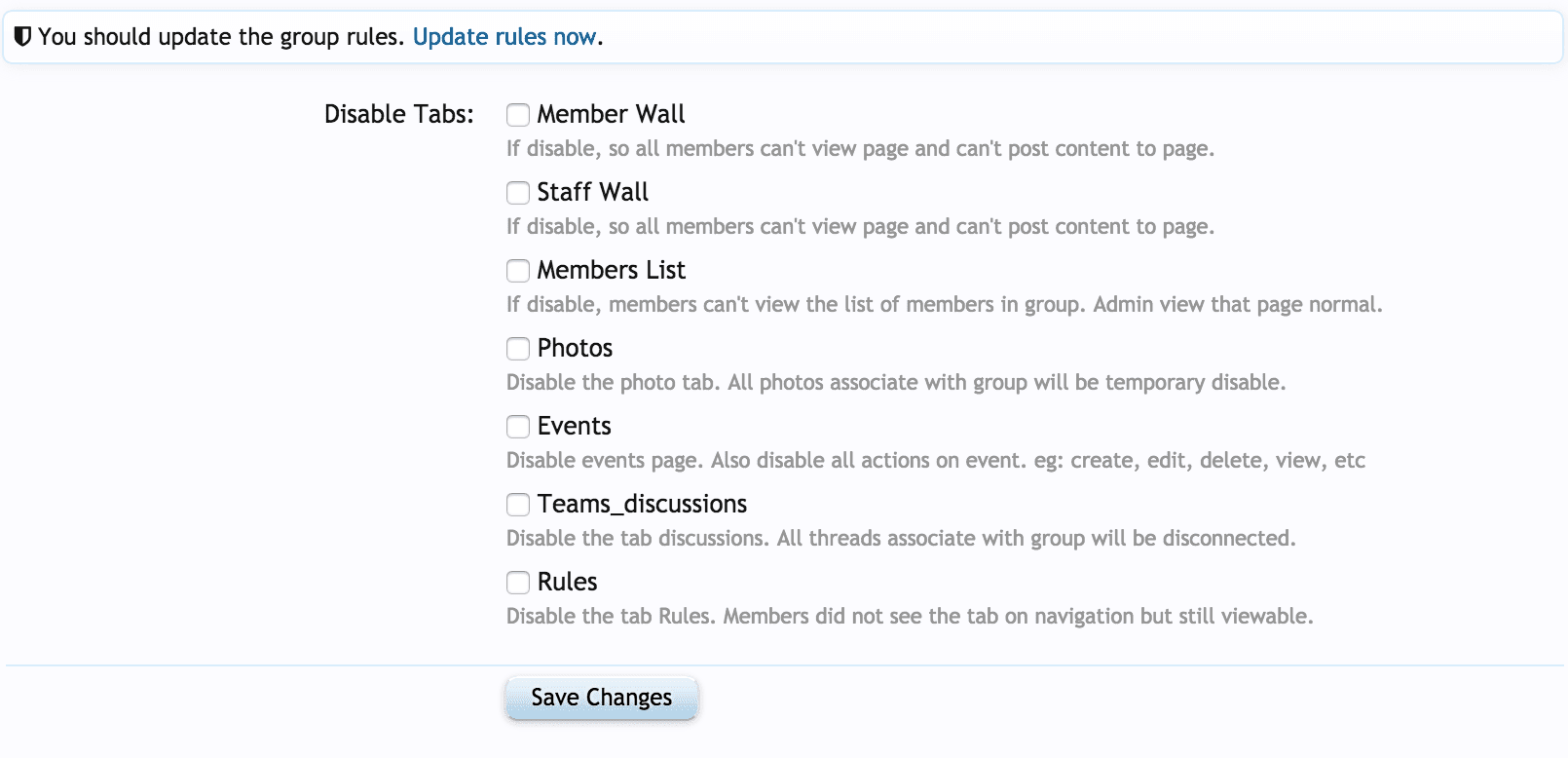 Notification system:
Notification Alerts can be turned on/off. Each member has ability to choose either Forum Alerts or Email. You can find this feature in group navigaton.
Status Alerts. If this option is enabled, you will received notifications when a status posted in newsfeeds. This option only works when notification alerts are on.
Group User Banning
is similar to XenForo User Banning. This feature now only allows admin to ban a user for certain period of time.
Other features:
Ability to set one or more groups become Featured Groups
Ability to transfer ownership to another user
Login reminder: send messages to inactive members. (Manage in Options->Membership-<Reminder cutoff date)
Route:
Primary role is "Groups" set as default. But this feature allows you to interchange among:
Groups
Teams
Guilds
Clubs
Import from other platform:
vBulletin 3.8 and 4.2 (for small and medium forums)
Waindigo Social Groups for XenForo
License:
There are 2 purchasing options available:
$59.99 for 1-year license
$18.99 for 3-month license

Note: One license per forum. You can renew expired license with only $20. This discount is only for 1-year license.