I found the following features in
Nixfifty's Calendar add-on
useful. It would be great if these can be added to your
Social Groups
add-on's events.
The
demo site is here
. You may register an account to test it out.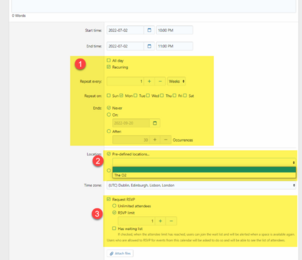 They can set the event time to All day or Recurring. That would be really useful for regular events.
They let the group admin to pre-define some common locations so they don't need to type in the same locations every time.
The RSVP part is really thoughtful. A waiting list is added so people can still be added to the waiting list when the quota is full. This helps when some participants are withdrawing from the event.