I don't fully understand this part:
Group Forums:
Fully integrate with XenForo forums.
Each group will have their own forum to post their own threads and use XenForo sub-forums to archive these threads. These threads are shown to the public or not depending on group Privacy options.
Archive all groups forums to single XenForo node.
Did I do it right?

But, if there are hundreds of group forums, they all will appear in this panel? That would be quite terrible for management. Is it really the case? Or did I do anything wrong here?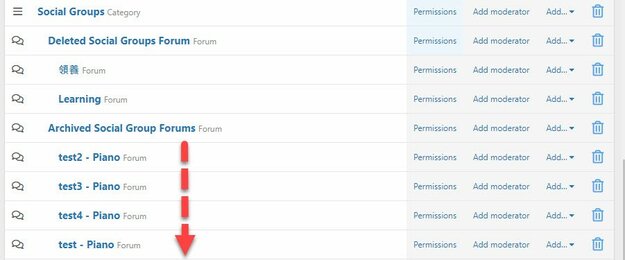 Last questions for today, if I choose Unassociate with group and archive forum for Delete forum action, the user who deleted this group will have one less quota for the maximum allowed groups to create? For example, if only one group is allowed to be added by a user, if he added a group and later he deleted it. He will be running out of the quota and is not able to add another new group again. Because the "soft" deleted group is counted as one group under his name. right? Maybe this can be fixed later? i.e. soft delete will free up a quota for adding new group.